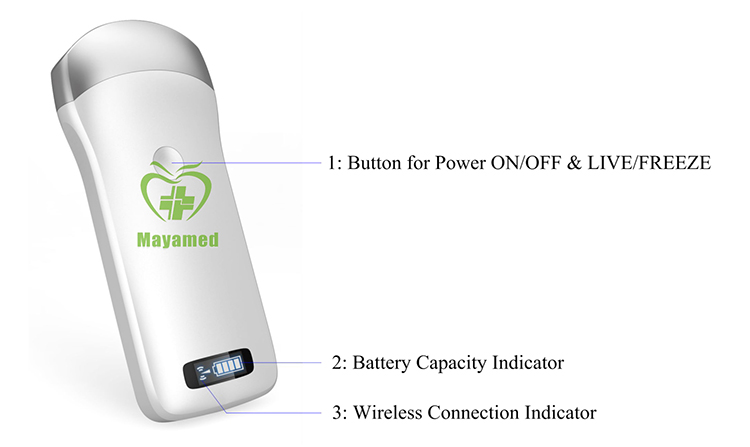 Application Range:
*In emergency clinical, hospital ward inspection, community clinical and outdoor inspect, an easy carried & operated compact ultrasound .
*In addition, the wireless probe can be conveniently used in surgery without fixing of cables. And by using the disposable protecting cover, it can easily solve the sterilization issue of the probe.
*Also for powerful communication capability of the smart terminals, the wireless probe can meet the needs of the telemedicine.
Feature:
·Workable with Tablet or Smart Phone ·Built-in and replaceable battery
·Advanced digital imaging technology, clear image · High cost-effective
·Wireless connectivity, easy to operate ·Small and light , easy to carry
·Applicable in emergency, clinic, outdoor and vet inspection ·Intelligent terminal platform, powerful expansion functions on application, storage, communication, printing.
Specifications:
-Scanning system: Electronic array scanning;
-Frequency: 7MHZ (linear array)
-Depth: 100mm, Adjustable
-Field of view(convex array): 80 degree
-Screen: Smart phone or tablet screen
-Supporting system: Apple MacOSx (Android, Windows system version coming soon)
-Display mode: B
-Frame rate: 12f/s
-Image gray scale: 256 level
-Image Storage: Using intelligent terminal customers to use (mobile phones,Tablet PC) storage devices
-Sutible for obstetrics, abdomen organs ultrasound scanning
-Power: by built-in battery
-Power consumption: 10W (unfreeze) /4W (freeze)
-Battery working time: 3 hours
-Size: 156mm×60mm×24mm
-Weight: 308 gram
Standard Configuration:
-Main Host(probe) 1 Unit
-Internal Battery and charger 1 Set
Optianal :
wireless Linear Array probe (128elements)